Home is La Crosse, Wisconsin. It's a city in southwestern Wisconsin, just across the Mississippi River from the southeastern corner of Minnesota. The city lies between the banks of the Mississippi River and the nearby bluffs, we share it with about 50,000 other people, and about that many more live in the surrounding suburbs. La Crosse has long been a regional center, first as a river town, later as a railroad hub, and now as an industrial and retail center. It's the urban jumping off point for the Driftless Region, an area of rugged hills and deep narrow valleys that was untouched by the last five glaciers, and the closest thing to mountains that you'll find in this part of the midwest.
Now that you know where we are, let's introduce ourselves and tell you who we are: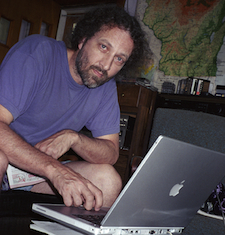 Obbie
has made his living as a computer guy since 1993. Before that, he spent many extended periods living on the road, first as a hitchhiker and then living in an adapted van. His extended experience living out of a backpack will come in handy this fall in Europe, and his years of traveling and living in a van will help this summer.
RoZ (pronounced "ROH-zee") is an artist and hospitality planner who seizes every opportunity to travel. As a teenager she went to Mexico City on a second-class train from El Paso, and as an adult she made numerous extended excursions from Kansas in all directions and toured the US east coast with an environmental road show. RoZ knows how to do food on the road, and she'll be doing a lot of that this year.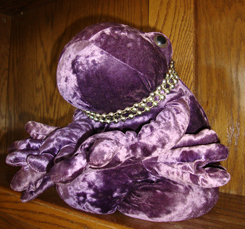 Gorf
is a confident and expressive purple velvet frog who will be riding in the cab watching the passing landscape with us this summer. He'll hang out with us at our picnic stops and on our campsites, provide insulation for heat-sensitive items, offer moral support, and narrate many of the videos documenting this trip.
The Big Red Dog is a 1986 Ford Ranger with a high topper on it. It has a fuel-injected V6 engine, automatic transmission, and cruise control. It's reliable enough to trust on a cross-country trip, strong and rugged enough to climb mountains on forest roads, small enough to maneuver in tight spaces, and lean enough to not be a total gas guzzler.The cab is barely long enough to hold our car-top bike rack, so our bikes will accompany us as we drive around the country. With our bikes, we can navigate cities from a low- to no-cost parking space, and if we break down in a remote area we can ride a bike to find help instead of walking. The Big Red Dog will be our transportation thru the west this summer, while our bikes will be practical where the truck isn't.
Ariel is an African peach-faced lovebird who's been part of our lives since 1997. Since he doesn't travel with us, we had to find someone to hang out with him every day for two months, put up with his attitude, and keep him well-fed and watered. While we're on the road we like to think that he communicates with us by sending messenger birds our way.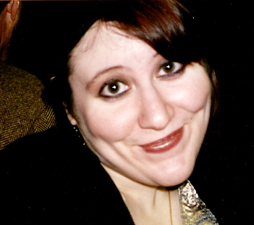 Faith
has been part of our family for a few years now. We don't have any biological children, just kids like Faith who adopt us in their late teens and early twenties. Faith is a vocal music student at Viterbo University, and has made many intercontinental trips of her own.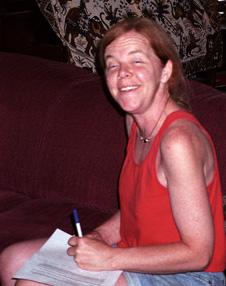 Markie
is a children's librarian, beekeeper, gardner, and good friend who will have custody of Ariel and our garden this summer.