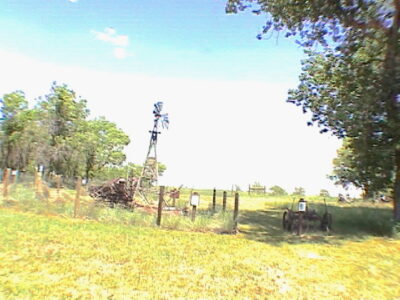 Friday morning started with a little walk around the perimeter of the campground to check out the birds, trees and grass that came naturally to the prairies in that area of the high plains. As we left, we drove past an outdoor mini-museum of old farm machinery and  doo-dads such as a mower, rake and windmill. We set off on our last twenty miles of this marathon crossing of the plains, looking forward to breakfast and a tank of gas when we got to the other side in Greeley.
Greeley feels like one of those towns that was born of the Old West, but has since seen better days. The Union Pacific had built a line between Denver and Cheyenne, far enough from the wall of Rocky Mountains to avoid any construction challenges, but close enough to benefit from the water supply and scenic vistas. Greeley sprung up at the approximate halfway point on this line, seemingly to serve the farms and ranches for which Cheyenne or Denver were too far to go. It developed as a minor railroad hub, and later as a highway milestone, but when the Interstate steered away from Greeley it began to suffer. Today it is just another of the many old "cow towns" that pepper the heartland, suffering from the deterioration of family farms while offering little to encourage "new blood" to move in or for "old blood" to stay.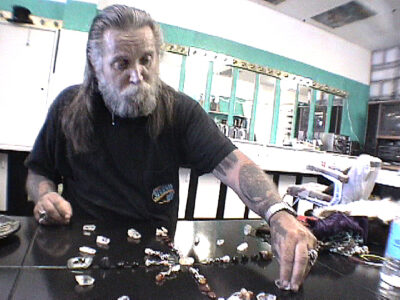 We arrived in Greeley hungry, and we thought a tatoo parlor would be a good place to ask for directions to a good place to eat. We ended up spending and enjoying a lot of time with Sandy, the owner, and her husband Floyd.
Eventually, we ate at a regional chain called Armadillos, where the food and service were both good. It was late in the day by the time we got to Boulder, which was where we'd planned to find the gear we couldn't get in La Crosse… a chore we'd thought was best put off until the following day. Since it was Friday, all of the campgrounds and motels near Boulder were full.
We climbed the hill to Nederland where we hoped to stay at the hostel, but no one would answer the door. We found ourselves in a phone booth with a copy of the yellow pages, looking for a place to spend the night. There was a place called the Sundance Lodge that  had a room for $80. It was another eight miles up the mountain and expensive, but we'd run out of choices.