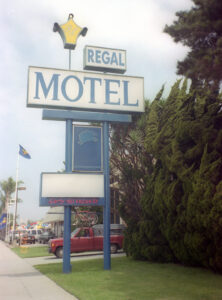 We got a good night's sleep at the Regal Motel (though it was "regal" in name only). Since we arrived so late, we requested and received a later departure time so we could get some needed rest. We left Oxnard at around lunchtime to continue up the coast, driving on the coast highway when we could and US 101 when we couldn't.
We briefly popped off of the freeway for bit of kitsch in Carpinteria: the Santa Claus Lane exit. There was a "Santa's Village", complete with a huge rooftop Santa sculpture to lure in passing motorists with small children. We drove by to gawk, but we didn't stop. We turned around and sensibly drove on.
We got to Santa Barbara early enough to have breakfast at Pavlako's on Milpas Street, which served fantastic Greek-style omelettes and home fries. We gave ourselves a bit of a walking tour of downtown Santa Barbara, and lingered a bit around the Amtrak station and found a very large and unusual tree.
The Moreton Bay Fig Tree doesn't have any figs on it. It's unusual for its age and its size. Planted in 1876, it still thrives today. It isn't that tall but it has an enormous root system, and it's limbs extend great distances horizontally. They say it spans 170 feet, so it offers a lot of shade on a sunny day. From a distance it looks like a big green umbrella.
Moving on, we followed old Highway 101 out of Santa Barbara and though Goleta to the west. After passing the airport we turned left toward the beach and the student enclave of Isla Vista. This was once known as the most densely populated square mile west of the Mississippi. Isla Vista is mostly massive apartment blocks packed tightly together, and the students are packed tightly together in each apartment.
This community left a mark on Obbie when he survived there living on the streets through the summer of 1981 (long story for another venue). We visited the small park where he camped, checked out the public fruit trees where he ate, and stopped for coffee at the cafe where he made lots of friends.
Over the mountain from Santa Barbara, in Los Padres National Forest, is a place called Paradise Valley (bringing to mind a line from an old Eagles' song: you call someplace paradise, kiss it goodbye). The beginnings of the Santa Ynez River run thru there, and at this time of year the river bottom is a series of spring-fed pools where the water is so clear you can see the bottom ten feet down and the temperature can only be described as perfect. In the late 80's, Obbie discovered secluded places for swimming that were absolutely magical.
Unfortunately, it seems as if every mutant from LA to San Luis Obispo has also discovered this place by now. Even worse, the Forest Service has started to require a $5 "Adventure Pass" for every day that every vehicle dares to park anywhere in the national forest. Not only are they milking more money out of us for something that our taxes have already paid for, but they are taking away an important refuge for a class of American nomads and low-budget travelers: the time-honored tradition of free camping in national forests. So while the timber and minerals of the national forests are being plundered by corporate America at give-away prices, the rest of us have to pay 5 bucks to take a swim.
It was dusk when we arrived, so swimming will have to wait until tomorrow. We drove as far as we could on the paved road and parked in the lot by the trailhead, which was where we met the extortionist demanding $10 for an "Adventure Pass" for today and tomorrow. We loaded our camping gear onto our bikes, thinking we could ride down the trail to find a camping spot.
The trail that looked like a gravel road turned out to be more rocks than gravel, and our metropolitan hybrid bikes weren't going to handle this. We walked the bikes down the trail until we found a spot in the grickle grass that was big and level enough to set up our tent. It's not very discreet visually, but hopefully we can get packed up before too many people come by in the morning.